Online safety, screens, photos & data
For children to learn how to go online safely they need positive input from both school and home.
Online behaviour
Here are 5 things you can do to support your child to develop safe online habits.
1. Start by reading these Be Safe Online rules with your child. Answer their questions and help them to understand:
I only go online with a grown up
I am kind online
I keep information about me safe
I tell a grown up if something online makes me unhappy
2. Your child learns most from you, so model safe, responsible and positive behaviours in your own use of technology:
Treat yourself and others with respect at all times; treat people in the same way when you are online or on a device as you would face to face.
In practice this means not sharing others' images or details without permission and not posting negative, threatening or even violent comments about anyone, including anyone to do with school.
3. Don't encourage your child to join any platform where they are below the minimum age.
4. It can be hard to stop using technology sometimes, so talk about this sooner rather than later. Use the principles of the Digital 5 A Day which you can read here:
www.commissioner.gov.uk/our-work/digital/5-a-day/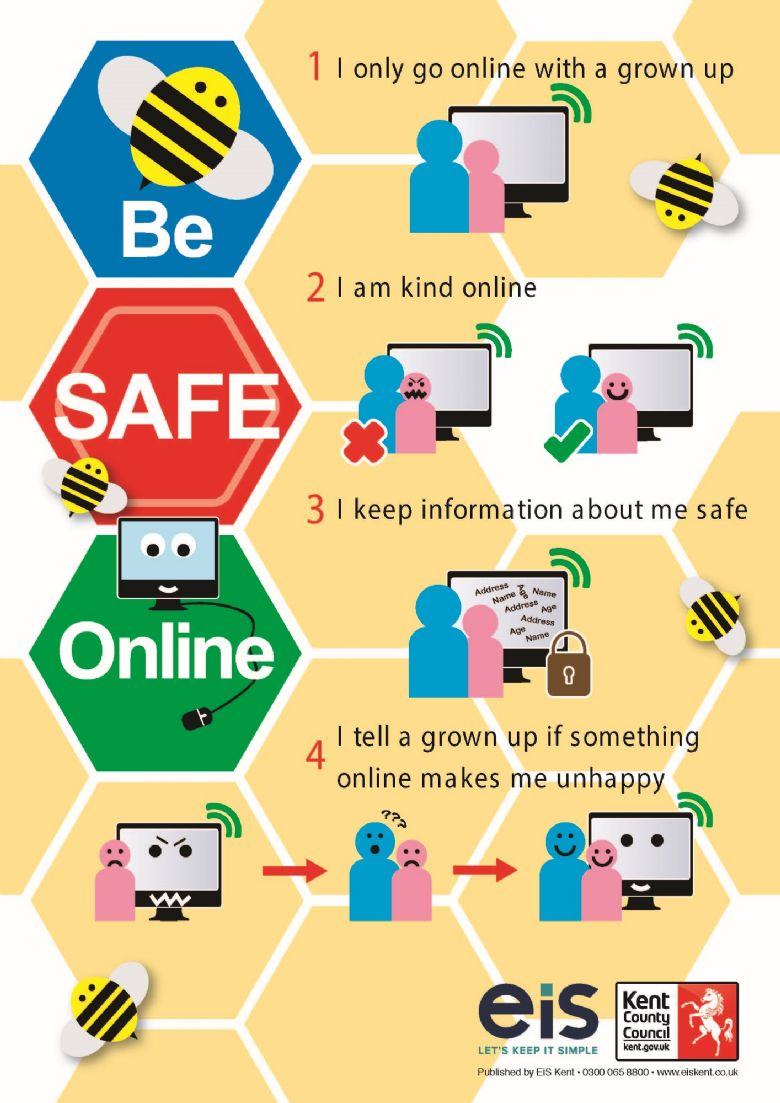 5. Use the Digital Family Agreement to set out how you are all going to behave as a family (download a copy at the bottom of this page).
Going online in school
The school takes every reasonable precaution to keep children safe when they go online in school and to prevent them from accessing inappropriate materials:
time online is limited to a maximum of 15 minutes at a time at the very most
children only access the internet while supervised
online access is filtered by the London Grid for Learning firewall.
On very rare occasions these precautions may fail, however the schools cannot be held responsible for the nature and content of materials accessed, which can sometimes be upsetting. The schools will do everything in their power to support children if this should happen.
Online learning at home
1. Children need a safe and appropriate place to do remote learning when they join in with Class Dojo or if the school or bubbles are closed. When on any video calls with school:
make sure your child is fully dressed
where it is possible, blur or change the background
it would be better not to be in a bedroom but where this is unavoidable, the child shouldn't be in bed, and the camera should point away from beds/bedding/personal information.
2. Home networks are much less secure than school ones:
Learn how to apply child safety settings to your home internet: https://www.internetmatters.org/ provides guides to help parents do this easily for all the main internet service providers in the UK. If you want to know more, read the 'Online safety at home' tab further down this page
set a child-safe search engine e.g. swiggle.org.uk as your home page
the YouTube Kids app is an alternative to YouTube with age-appropriate content for which you can set limits.
We strongly advise that you don't allow your child to watch YouTube unless you are watching alongside them.
3. If you ever arrange for your child to have private online tuition:
make sure you check that the tutor is registered/safe and reliable
remain in the room
make sure your child knows that tutors should not arrange new sessions or online chats directly with them
refer to the Online Tutors – Keeping children Safe poster (useful information for any tutor, IRL or Online) which you can download at the bottom of this page.
Photos and videos we take
When a child joins the school, parents/carers are asked if they give consent for their child's image to be captured in photographs or videos, for what purpose (beyond internal assessment, which does not require express consent).
We don't take photos or videos of a child without this consent and with the child's agreement at the time. If we have both, we follow these rules:
Any children shown in public facing materials are never identified with more than first name, usually not by name at all, and photo file names/tags do not include full names to avoid accidentally sharing them.
We only take images of children in suitable dress.
Staff are not allowed to take photographs or videos on their personal equipment.
You can ask to see any images we have taken at any time. You can change your mind about giving us consent to take and use photos at any time. Please do this by emailing the school.
Ways we might use digital photography and video:
Your child's image being used in a school wall display and on their name card.
A teacher or Early Years Practitioner taking a photo or video of your child as part of an observation of their progress which is then put in their Learning Journey (a key part of how we assess children's learning).
A photo or video which includes your child being posted on Class Dojo, the password-protected learning platform we use to extend learning outside the school.
A child using a computer program or educational electronic device which captures audio, images or videos.
Your child's image being used to advertise the schools or to illustrate our work, in our school prospectus, on our school website or on leaflets advertising activities run in school.
In rare events, your child's picture could appear in the media if a newspaper photographer or television film crew attends an event. If this happens we will talk to you about it first.
Photos and videos you take in school
Your child wants to see you looking at them, not at your phone.
At some events in school we do allow you to take photographs or videos, however you must focus on your own child. When you do this there is a strong possibility that other children will also be visible or audible, and therefore no such content should be shared publicly:
there may be cultural reasons why this would be inappropriate, or legal reasons why it would put a child in danger
you need formal consent from the parents/carers of those children before you can do this legally
online photos and videos do not simply disappear when we delete them from our accounts: be good adult role models by not oversharing (or providing embarrassment in later life).
Live streaming, whether public or private, is never permitted, so don't use any streaming platforms or 'live' features (e.g. Facebook Live) to stream events/circumstances as they occur. You may be asked to leave the premises or event if you do this.
Taking care of your data
What we do with your information and how we keep it safe is set out in our privacy notice, which you can read here.
If you have concerns
Talk to your child's key person if you have any concerns about your child's use of technology, or about that of others in the community, or if you have questions about online safety or technology use in school.
Go here if you have a concern outside school hours:
https://www.thinkuknow.co.uk/parents/
Click here to report worrying online behaviour:
https://www.ceop.police.uk/safety-centre/
More about online safety in school
You can find out more about online safety at the Forest Alliance of Nursery Schools by reading the full Online Safety Policy here, where you can also find links to other relevant policies (e.g. Safeguarding or Behaviour).
Check out the games, films and programmes your child wants to play/watch