Curriculum pedagogy and intent
What we teach

How we teach and children learn - our pedagogy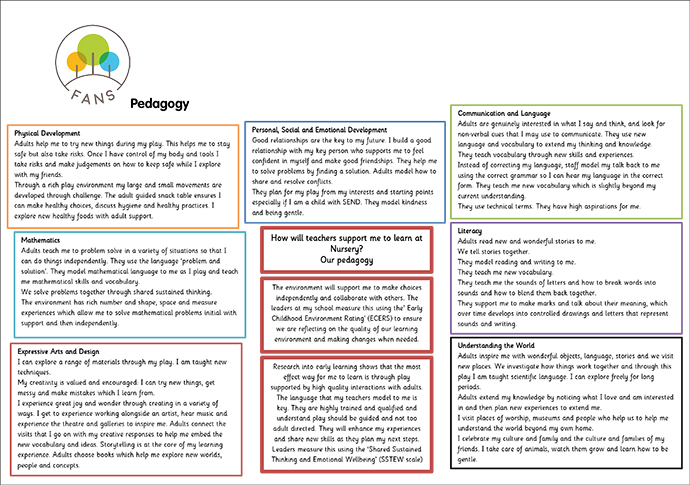 Why we teach this way
Pedagogy relates to the "how", or practice of educating. It refers to:
that set of instructional techniques and strategies which enable learning to take place and provide opportunities for the acquisition of knowledge, skills, attitudes and dispositions within a particular social and material context. It refers to the interactive process between teacher and learner and to the learning environment. (Siraj-Blatchford et al. 2002)
It concerns the "how" of adult and child interaction, whilst recognising that how children learn and develop at this stage is not just subject to what is intended to be taught, but that it is also of particular importance how it is facilitated. Research has shown these interactions and experiences are one of the most significant factors explaining the effects of care and early education on children's learning and development.
Certain pedagogical practices can better stimulate children's development:
Firstly, research suggests that the quality of interactions between adults and children plays a highly important role in stimulating early learning. In high-quality interactions, adults are genuinely interested in what the child is doing; adults are listening, are extending children's thoughts and knowledge (i.e. scaffolding), and implement sustained shared thinking methods where children co-construct meanings and interpretations of reality together with supportive adults. In settings where sustained shared thinking was enacted more frequently, children have been noted to make greater developmental progress. Scaffolding-focused learning environments, where the practitioner only attempts to help the child with tasks that are just beyond the child's current capability, demonstrated greater overall positive effects on children's development compared to children placed in more teacher-directed and child-centred environments.
Secondly, play-based learning is found to be a highly effective method in enhancing children's socio-emotional and academic development. Play has found to contribute most to a child's development when it is regarded as meaningful, i.e. has the explicit purpose for a child to learn something such as a puzzle or constructional materials. Research indicates that unguided free play is often less effective in stimulating early learning as compared to guided free play.
Different research findings suggest that, thirdly, pedagogy should neither be too staff-directed or staff-focused with a high share of staff-initiated activities, nor too child-centred where children decide on the activities. While studies on staff-directed approaches have revealed some advantages such as better letter and reading achievement, this approach negatively affects children's motivation to learn.
Read the research
'Pedagogy in early childhood education and care (ECEC): an international comparative study of approaches and policies' July 2015 Stephanie Wall, consultant, Ineke Litjens, OECD Miho Taguma, OECD
Published by the Department of Education. https://assets.publishing.service.gov.uk/government/uploads/system/uploads/attachment_data/file/445817/RB400_-_Early_years_pedagogy_and_policy_an_international_study.pdf