Low Hall
Low Hall Nursery School has been providing outstanding education and childcare since we were opened by nursery education pioneer, Margaret McMillan, in 1929. Our team of passionate teachers and childcare specialists offer a welcoming, secure and stimulating learning environment. If you haven't met us yet, please come to Visiting Day.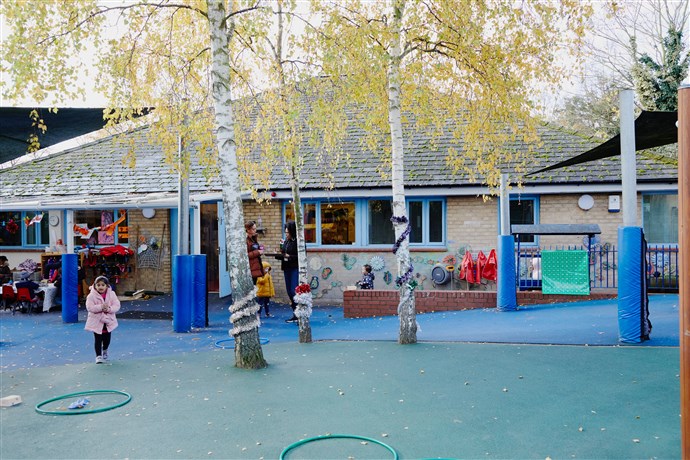 Parents and carers talking about the school
"I wanted to share my experience as parent sending my son to Low Hall Nursery School. I cannot recommend it enough
.
Our boy has been attending for about 6 months and even throughout the pandemic we have been overwhelmed by the kindness of the teachers, the opportunities to learn and the friends he has made there. As you can imagine, we were a bit apprehensive at first as we were not able to have a proper visit... but it's been a real joy seeing him race off every morning into the classroom to be with this mates.
The Headteacher has been particularly helpful, lending a hand with some of the parents' campaign to get a "living wall" installed to give privacy and clean air to the playground.
I've not posted in Facebook in YEARS but I wanted to post this hear to let anyone looking for a place for their child to give them a go. You won't regret it!
And nobody asked me to do it either, I just wanted to give them a plug."
"My son was extremely happy there. They have a caring and dedicated staff and a brilliant new head. I highly recommend it."
"My son went to this nursery for 2 years and loved it. The staff are very warm, nurturing and creative."
"My daughter also went here for 2 years. She loved it! Yes They do 30 free hours too."
"Low Hall is great! My daughter goes there now and my son went there a few years ago - he had special needs at the time and they were really accommodating."
"This place is brilliant. Our daughter has been there over a year and is thriving. The staff are amazing and really take time to form relationships with the children and families. This place is a school so has a head teacher, class teachers and all the staff are level 3 or above. You won't find this in any other private nursery providers."
"This nursery is amazing! Both my boys went ( now age 14 and 9 ) and still talk about how much they loved it here. Highly recommend. x"
"My daughter spent two years at this nursery and had a wonderful experience. Prior to that I used to take her to the stay and play where we got to know the staff. It has a really creative child centred approach and my daughter and I have lovely memories."
"It is an awesome nursery. My son left this summer and he was really sad to leave. He will be going back for their playscheme."
"That's what's so lovely they can keep going after 4/5 to holiday club so really nice when they leave for school ... Plus fab when you need holiday cover for work (or just want time to yourself!)"
"My Y6 daughter is still sad about leaving Low Hall! She loved it so much. Wonderful place."
"I can only say good things!"
"My son was there for nearly a year. Highly recommended provision, happy times & memories ! Out of 4 different & "tested" nurseries - Low Hall was the best choice for us/him."
"Low Hall is amazing. It's a stand alone nursery school so a head teacher, specialist teachers and staff for 2-4 year olds and really good at individual support - really caring and friendly"
"Low Hall. It is an amazing place where the teachers and carers really care. They have all been working there for many years which is a clear sign that they enjoy their job there. It shows in their smile and the way they are so attentive to all the children. Cannot rate it enough. My eldest was there and my little one has started there in September."
You can read our latest Parents and Carers Survey here.
Parents and carers talking about the playscheme
"Good Evening,
I just wanted to write a note to say a huge thank you for the amazing holiday club that my son YYY has been attending.
The only complaint that I had from him was if I picked him up at anything less than the last 5 minutes - that's how much he loved it. You always give them so many activities and make it such a lovely place for them to be.
I must say a special thank you to ZZZ who YYY loved - as did his little sister XXX. In fact, we would like to enrol XXX at Low Hall from when she is 3!
Enjoy the well-deserved break and a massive thank you again for always accommodating our very last minute requests and providing such a brilliant holiday club."
What Ofsted say
Ofsted Inspected Low Hall in March 2019 and said the school continues to be 'good' and that 'I am of the opinion that the school has demonstrated strong practice and marked improvement in specific areas. This may indicate that the school has improved significantly overall. Therefore, I am recommending that the school's next inspection be a section 5 inspection.'
This means that we will be welcoming Ofsted back in the near future, to do a longer inspection.
You can download the letter below, or follow this link to read the letter we got after the March inspection as well as our previous OFSTED reports.