Learning (and playing) at home
What's on this page
Here are our ideas and other people's. Please all read the NHS/CAMHS bit, but treat the rest as a library you can visit when you need, not a 'to do' list for the non-existent SuperParent. Treat yourself kindly.
Class Dojo
We use Class Dojo to join the playing to learn you do at home with what we do in school. When your child starts school with us you will get a username and password. Go to this link and choose 'Log in' from the top menu bar:
COVID help handbook for all families
This handbook has been made for all families by Waltham Forest Early Help. It includes all kinds of ideas and advice, from basic routines to helplines to links to things to do for free (if you can get online). Please flick through it so that you know what's there when you need it. Download it at the bottom of the page:
Our thanks
Thanks in particular to the Early Years Team at Waltham Forest, the Waltham Forest Parent Forum, Waltham Forest Child and Adolescent Mental Health Service (CAMHS) and our friends at Sheringham Nursery School.
COVID-19 information, advice and support
NHS/CAMHS Advice on coping when you are cooped up
Make a timetable
Parenting Tips
Problem solving
Other things to think about
Make a timetable
The children expect a routine at school, and it will make it easier if you also have one at home. You might need a picture time table or words if your child can read and prefers that. Make sure the children have a choice of activity and know how long it is going to go on for (using a timer the children can see). Here's an example:
Activity 1
Try and do some table top type work in the morning when the children are fresher and can manage a board game/cards/ touch typing course (See BBC Bitesize online resources online resources) /drawing/modelling/Lego (see the Lego 30 day challenge further down this page) /jigsaws/pretend play if they are younger.
Snack/drink
Exercise break
Jumping/dancing/skipping/balancing on one leg/running up and down the hall – even an exercise routine on the TV or YouTube – don't forget to gradually calm the children down again by slowing down the music or the movements and finish with stretches.
Approach this one with caution, as although it will help them sleep, it is important to also do a calming activity so they are not overexcited too long in a small space!
Activity 2
see ideas for activity 1
Lunch
Movement break
do some shorter stretches in the afternoon to keep them moving a bit
Activity 3
as above
Evening meal
Quiet time
Play/this is the TV or screen time!
Bath, shower or wash
Book and bed
and here's a more colourful one: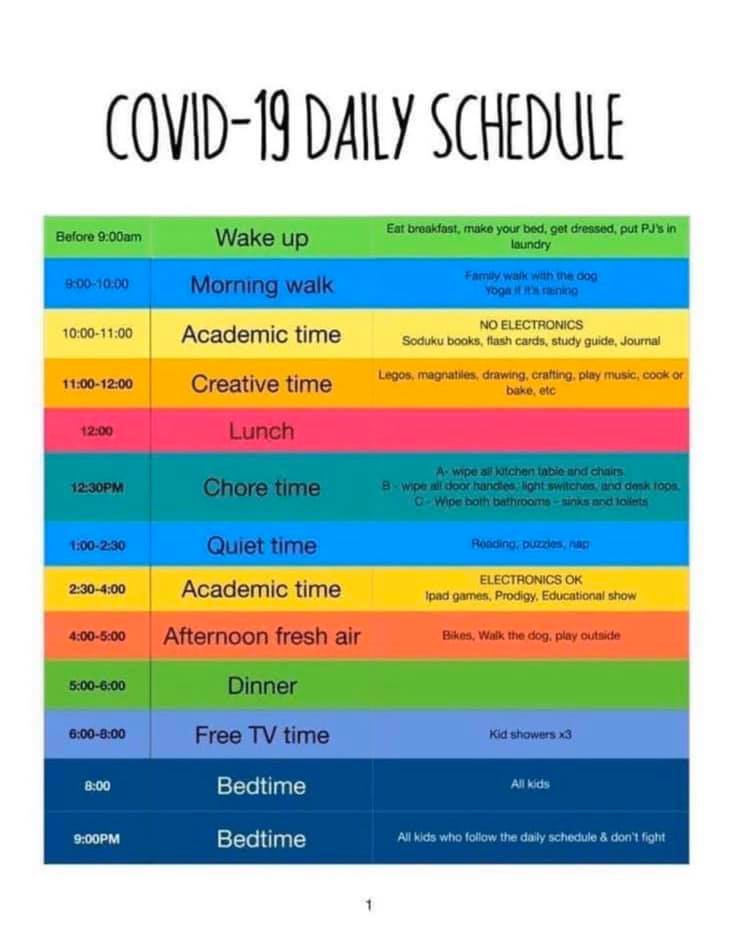 Proactive parenting tips
Consider motivation and rewards
Give your child a choice of motivation/rewards. Don't just assume you know what they want - even our own preferences can change day by day.

Using 'First-Then'
Give it time
Habits take a while to develop. Similar to these tips and routines you put in place – keep persisting and give it time for both you and your child to adjust.
Be consistent
Consider task difficulty
You might need to break down the activity/task, e.g. if a worksheet had 10 questions, instead of expecting your child to complete all 10, maybe start off with just 5 then build it up gradually. Or you can break down the difficulty by giving your child more breaks to complete the activity.
Avoid empty promises and threats
If you've promised the motivation/reward after they have completed the activity, make sure you deliver it.

Try to avoid threats if possible. But if it must be used – make sure it is fair for the child, and it is followed through.
Redirection
Once you see your child getting frustrated/anxious, redirect their attention to something else can be helpful.
Offer alternatives
e.g. This can be choice of which activity to start with, choosing where to do the task, choice of using the blue or red pen, etc. Choice is particularly useful for children displaying oppositional behaviours.
Emotional regulation
Many children with learning difficulties or who are autistic struggle with emotions. This is a really good chance to teach emotions since they are in the safe home environment and with people they feel most safe with.
When behaviour that adults find difficult happens
Experience tells us that behaviour we find difficult to deal with is more often than not a sign of stress: work out what is causing the stress and you stand a better chance of changing the behaviour.
Step 1: Be a detective! By recording and doing the STAR analysis (to help identify patterns of behaviour)
Settings: When does it happen?
Afternoon time? Non-preferred activities? E.g. Bobby is doing his homework
Actions: What does the child do exactly?
NOT a description of how they are feeling. E.g. Bobby went downstairs, shouted and kicked sister very hard
Results: What happened immediately after the action?
Events that follow the action, affect the likelihood of that behaviour being repeated. E.g. Bobby yelled and ripped the paper. Result- the work was taken away to calm Bobby down.
Triggers: Think about the causes of the behaviour.
Was the trigger 5 minutes or 5 hours ago?
Step 2: Creating Change with STAR
Consider your recorded information. Can you make any changes in relations to Settings, Actions, Results and Triggers?
Other things to think about
Parents: Need to look after yourselves.

What are your self care methods? How can you make sure you get your self care throughout the day or week?

Think about your environment.

Is there anything you can change that will help reduce stress/anxiety/distraction for your child AND yourself?

Facilitate peer play/ interactions via skype?

Apart from online computer games, through Skype your child and a peer might enjoy: Drawing together (following instruction game where one person gives instructions on what to draw and later compare the pictures) , skype chess, noughts and crosses, etc …

This can be an opportunity to teach other life skills!

Cooking
Grocery shopping
Sewing
For older children who like numbers … You can teach them budgeting
Do the laundry
Cleaning the car
Deep clean

Mindfulness activities

There is lots of research showing the benefits of adults and children practising mindfulness.

Keeping a diary OR 'Book of success' [doesn't need to be handwritten can be audio recordings/typed on devices etc]

This can involve taking a picture of activity/highlight of the day, and recording down the specific behaviour to be praised in relation to the picture. "Baking cookies with my brother. We took turns and shared nicely when mixing the eggs"

See if you can make contact with other families online - you are not on your own in this situation, and there are other families to talk to. You can contact your local parent's group. There are twitter and face book groups further down this page.
Check in with friends and family so they can help if needed if you are not well or you need help looking after the children. If you become very unwell remember to please seek advice from NHS 111. You can do this online at https://111.nhs.uk/covid-19
Where to get help: SEND, parenting, worried about a child
Make a stay at home bucket list or do the 30 day Lego Challenge
Get everyone together and make a bucket list of things each person wants to do. Or use this one: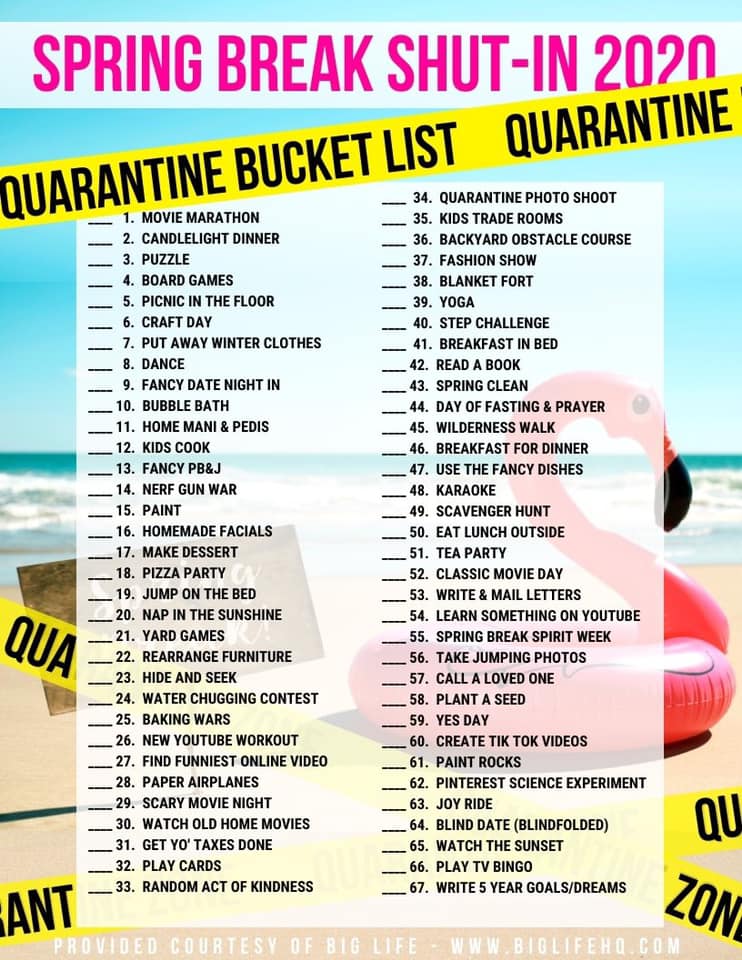 and here's the Lego Challenge to keep you going: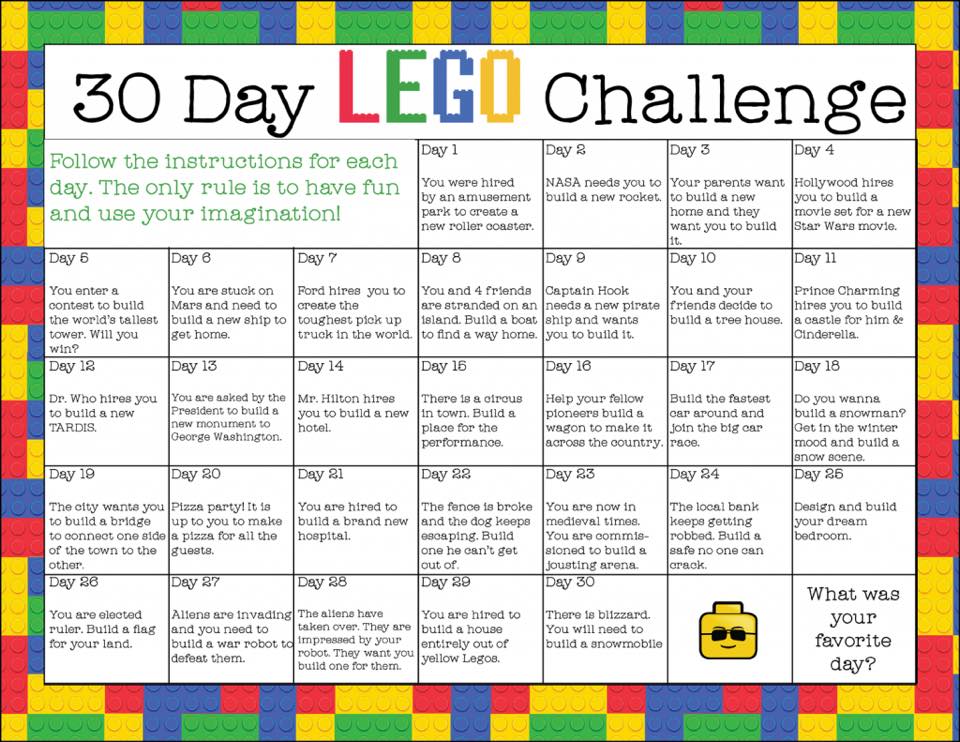 Join in Waltham Forest Early Years Learning Together Club
Are you worried about keeping your children entertained during the time you may be spending at home or are you just looking for fun ideas to support your young child's learning and development?
As we are all practising social distancing or having to self isolate, your children are probably a bit confused. They will be listening to everything that is going on around them, and most likely picking up on any tension or anxiety.
Over the coming weeks, you may start to see a change in your child's behaviour. Whether it's anxiety, anger or just a protest because they can't do the things they would normally be doing. This is normal and expected under these circumstances.
What your child needs right now is to feel comforted and loved. Take this time to enjoy spending some quality time together. We want to help support you and your children to make a difficult situation just a little bit easier.
The Waltham Forest Early Years Team have created a fun home learning programme called Learning Together. Each week there will be:
Top Tips Tuesday fun activities to do together on an activities card.
Thumbs Up Thursday an opportunity to comment and show your involvement.
Share day Saturday a chance to celebrate your Learning Together activities.
To get involved in the Learning Together Community make sure you and your under five family community are following the Chit Chat Pitter Pat Facebook page and Instagram page:
https://www.facebook.com/chitchatpitterpatLBWF/
https://www.instagram.com/chit_chat_pitter_pat/
Our mission is to create a Learning Together Community support network in Waltham Forest for us to support you and for you to support and inspire each other! We are really looking forward to working together with the under five's family community.
Let's see your thumbs up on Thursday!
Also have a look at the Waltham Forest project for getting children talking:
Find activities for you and your toddler or young child
Stories, books and magazines
Activities for toddlers and young children that involve a screen
Boardgames
Compiled by Waltham Forest Parent Forum:
Any of the Orchard Toys Games
Castle Panic
Chess
Connect 4
Dobble
Electric keyboard
Game of Life
Kids cluedo
Labyrinth
Lego
Monopoly
Play doh
Pop to the Shops
Quatro
Qwirkle
Top Trumps
UNO
What am I?
Who's who
Zeus on the Loose
YouTube channels to check out
Also thanks to Waltham Forest Parent Forum:
Acapellascience
AsapSCIENCE
Brains On (Science)
Jack Hartman
Jeography songs for kids
Dadlab
Learning station
Little Stories for Tiny People
Numberock
Science With Tom
TV you might all like
Any David Attenborough
Bear Grylls
Blackfish
Blue World TV
Brainchild
Chasing Monsters
Coast
Genius
Horrible Histories
Life
Miniscule
Natural World
One Strange Rock
Orangutan Jungle School
Pachamama
Planets
River Monsters
Secrets of the Great British Castles
Sharks
The who was show
The Wild Kratts
Time Team
You Vs Wild
Things for older children, teens and adults to do
Activities to do offline
Fun things to do. Each challenge includes simple instructions using materials around the house, QR code video resources, and a student recording sheet:
bit.ly/freemakerstations

Knitting and crochet:
https://www.ravelry.com/account/login
Self-care
Children can learn how to care for themselves by seeing you care for yourself. Many people find yoga a good way to do this. Find out if this works for you by trying it in private with free and donation sessions, here and on YouTube:
http://yogawithadriene.com/

Meditation is good too:
https://www.insighttimer.com/
Learn, practise or get help to learn something
Museums and other places you can visit online
and when things get going again....
Register here to take part in Local Authority activities for under 5s.
A group of (Walthamstow) parents developed the Kinfo app to help them find meaningful, fun, enriching activities their families will enjoy. Every activity recommended by Kinfo has been tested by real kids, and approved by real parents: https://kinfoapp.com/