World Book Day at Church Hill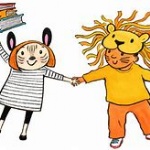 On Wednesday 21st March please dress up as your favourite book character and buy a book to take home
We are celebrating World Book Day on Wednesday 21st March.
Children (and adults!) are invited to dress up as their favourite character from a book.
Foyles Educational Bookfair is visiting, with over 1000 good quality books available for you to browse and buy, with prices from 99p to £6.99. Payment for books will need to be in cash or by cheque on the day.
The Bookfair will be open before and after the Nursery sessions, so please come along and support the event. The school will receive some free books, depending on how many books are sold.
DAYCARE families: if you are unable to attend the Bookfair but would like your child to have the opportunity to buy a book, please pick up a letter and envelope from the Nursery staff. If you use the envelope to send in some money, Nursery staff will help your child to select an appropriate book, and return any change in the envelope.