Free music for your toddler!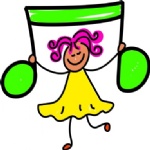 FREE music sessions for you and your toddler delivered by Caroline Morris (Early Years Music Specialist from Redbridge Music Service´s Mini Musicians)
Would you like to:
learn songs, rhymes and poems with your toddler?
have fun dancing and playing instruments?
receive a CD and a booklet to support your singing at home?
Then, come and join us:
When: Mondays from 14:00pm till 14:45pm – Starting Monday 27th April 2015
Venue: The Village Preschool, St Mary's Welcome Centre, 8 Church End, E17 9RJ
To book your place: please, contact Kelly or Kristina at the Village Preschool on 020 8521 7170 or 07516 955810 or info@thevillageplaygroup.org
Please hurry and sign up! Places are limited!