Church Hill still Outstanding!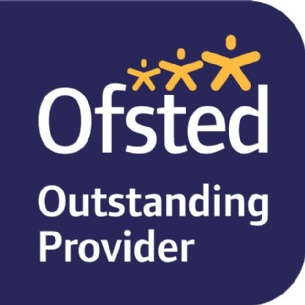 'Children at Church Hill get an exceptional start to their education' say Ofsted in their latest inspection report.
They praise the 'safe and enabling' environment that 'fuels curiosity', the challenge we provide and the expectations we have of all children, whatever the background or need.
They notice the 'cosy place' where two year olds start each session before they explore the wider nursery, the children, 'engrossed in activities', the staff who are 'experts in effective early years practice' and the leaders who are 'highly ambitious for all children'.
They pay attention to how our staff 'use every opportunity during children's play to build children's knowledge' - in the sandpit or at the art table. They observe how 'Reading is prioritised' through 'a wide variety of books', and using age-appropriate phonics: 'rhyme and song' for the younger children while 'some older children are starting to blend the sounds they have learned'.
Our provision for children with special educational needs and/or disabilities is 'exemplary', they say, and highlight how we 'put the necessary adaptations in place to ensure that these children enjoy the same curriculum as their peers and join in with all aspects of school life.'
All in all they describe the place we know and love. Download the whole letter below.
As always, if there is anything you don't recognise, or if you have ideas about how we can improve, please do share them with us. We won't be outstanding next time unless we keep evolving!