Get help (advice and ideas)
If you need support with parenting, how your child is speaking and communicating, the development of your child or if you feel isolated, talk to:
your health visitor
your key person, or
one of the family support people you meet at a Children and Family Centre group.
These people will put you in touch with organisations that can help you.
---
This booklet was developed to help us cope with the COVID pandemic. It's still here because it contains all kinds of useful information:
helplines and contact details for most emergencies
ideas for what to do in all kinds of situations
Simple advice to help your child stay safe
Breastfeeding
Click here to find useful helpline phone numbers and download a leaflet about where to get help locally.
Childcare
Church Hill and Low Hall Nursery Schools, offer daycare from 8am to 6pm to 3-4 year olds.
We have a small number of places for 2 year olds who are eligible for the Free 15 hours scheme and occasionally take 2 year olds for paid 15 hour places, but 2 year old places can't be topped up with additional hours.
We don't have any places for children who are younger than 2.
You can look for alternatives on the Ofsted website:
Educational Psychologists
If you have concerns about your child that you would like to discuss with an Educational Psychologist, you can make an appointment. How to do this and the dates available is on the flyer which you can download at the bottom of this page.
Food for babies and toddlers
Food for young children
An organisation called HENRY works in Waltham Forest to help families. This is their timetable: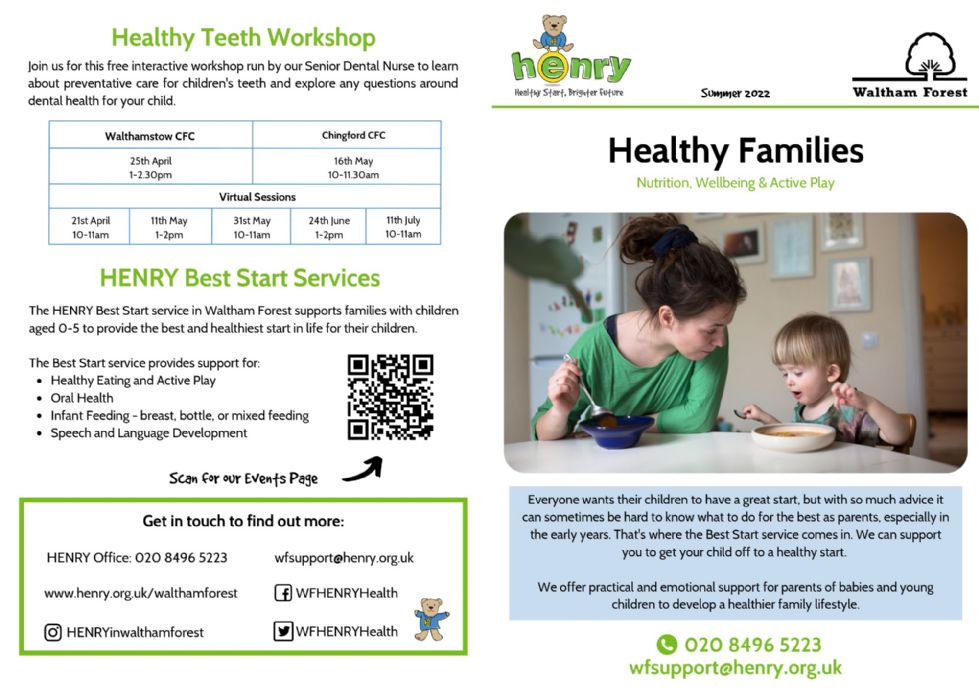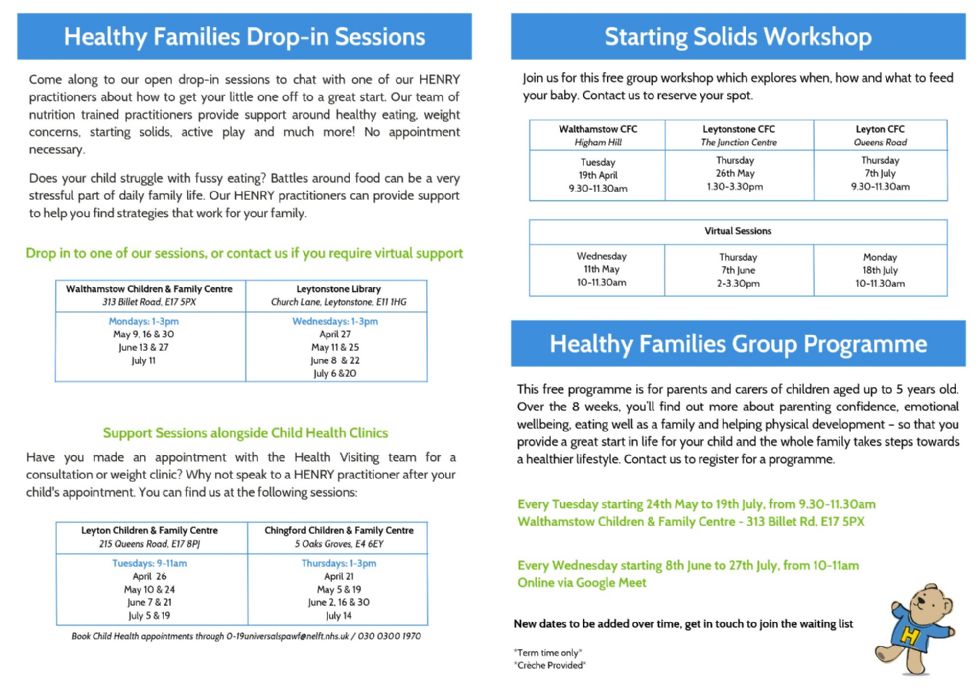 The BDA -- Association of British Dieticians -- has a recipe finder that you can search by ingredient, meal type, cooking method, preparation time or specific need eg gluten-free. The yummy recipes include nutritional information and are designed for you to cook with your child.
https://letsgetcooking.org.uk/lets-get-cooking-at-home/hundreds-of-recipes/recipe-collections/
Health
Special Educational Needs and Disabilities
Victim Support
Help for families who are dealing with death
It is now recognised that babies and toddlers also grieve. The Child Bereavement UK website has lots of information families might find helpful in all kinds of circumstances relating to death. You can download their leaflet for talking to under 5s about death at the bottom of this page.
Teeth