e-safety, photos and using screens
As schools we have a unique opportunity to give the adults of the future the skills, knowledge and habits they will need to use the digital world to their benefit and to the benefit of the community. We take this opportunity very seriously.
going online in school
In our schools, children only access the internet while supervised, and for a maximum of 15 minutes at a time at the very most.The only part of the internet that is accessible in school is filtered by the London Grid for Learning firewall. On very rare occasions these precautions may fail and the schools cannot be held responsible for the nature and content of materials accessed, however the schools will do everything in their power to support children if this should happen.
Before children start at Church Hill and Low Hall we give parents the opportunity to consent or not to their children going online while supervised. If you agree, please read the Be Safe Online rules with your child, answer their questions and help them to understand.
'Be safe online' rules for children:
I only go online with a grown up
I am kind online
I keep information about me safe
I tell a grown up if something online makes me unhappy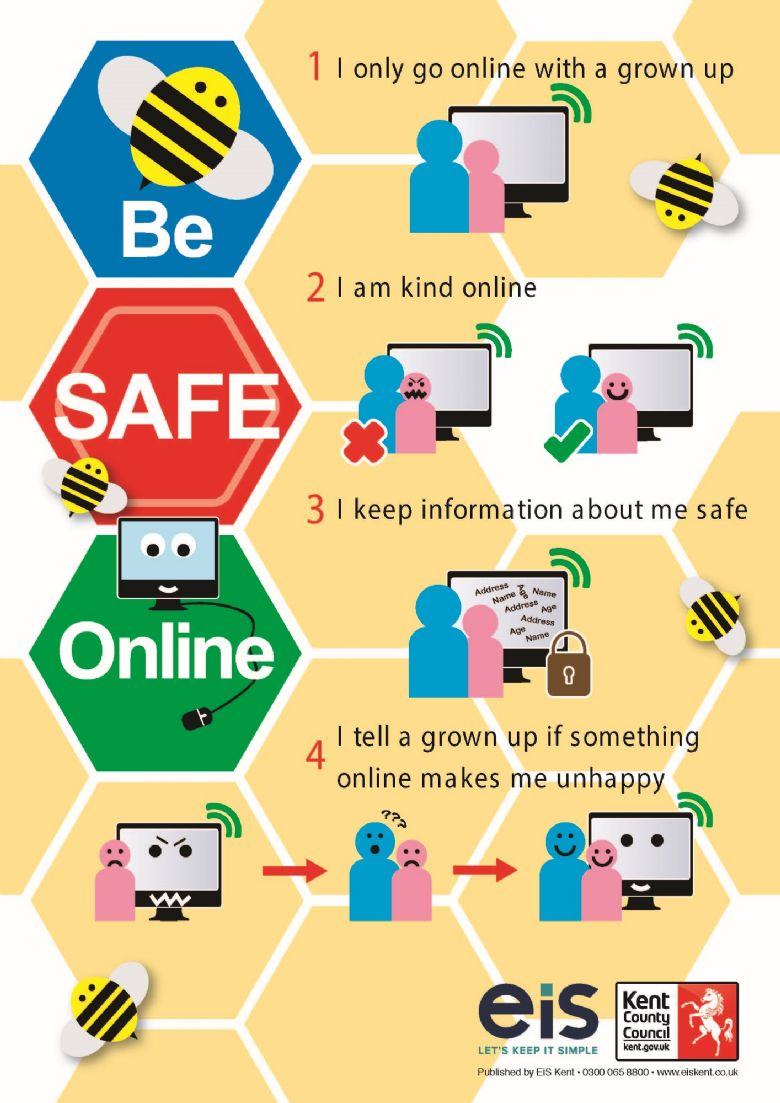 Photos and videos we take
We don't take photos or videos of a child without their parents' consent and the child's agreement at the time. If we have both, we follow these rules:
If the child is named, we avoid using their photograph.
If their photograph is used, we avoid naming the child.
Where showcasing examples of children's work we use only their first names, not their full names.
If we were to show digital video work to an external audience, we wouldn't refer to children by name on the video, and wouldn't give children's full names in credits at the end of the film.
We only take images of children in suitable dress.
Staff are not allowed to take photographs or videos on their personal equipment.
You can ask to see any images we have taken at any time.
You can change your mind about giving us consent to take and use photos at any time.
Please do so in writing.
Ways we might use digital photography and video:
A teacher or Early Years Practitioner taking a photo or video of your child as part of an observation of their progress which is then put in their Learning Journey.
Your child's image being used in a school wall display and on their name card.
Your child's image being used to advertise the schools or to illustrate our work, in our school prospectus, on our school website or on leaflets advertising activities run in school..
In rare events, your child's picture could appear in the media if a newspaper photographer or television film crew attends an event.
Note: If we, or you, actually wanted your child's image linked to their name we would contact you separately for permission, e.g. if your child won a national competition and wanted to be named in local or government literature.
Photos and videos you take
Please don't take photographs/videos of other children or staff at school events without the consent of the staff or the children's parents/carers. If you take photographs or videos, focus on your own child.
Live streaming, whether public or private, is not permitted and we request that you do not use any streaming platforms or 'live' features (e.g. Facebook Live) to stream events/circumstances as they occur. You may be asked to leave the premises or event if this takes place.
When you capture footage or still images of your children, there is a strong possibility that other children will also be visible or audible. For this reason, no such content should be shared publicly. You will have seen other parents share videos of school plays on social media, but this does not make it advisable or acceptable. There are several important reasons for this:
Some children are deemed at risk by local authority safeguarding and child protection authorities; their image must never be put online for their own protection. You are very unlikely to know who these children are. Others may have complex family backgrounds which mean that sharing their image could have unforeseen consequences. There is the real possibility you could endanger a child by sharing their image in an identifiable context (e.g. where the school is easy to identify and locate).
Express consent is needed from parents to comply with data protection legislation. Sharing without express consent could incur fines for contravention of data protection rules.
Some families may object for religious or cultural reasons, or simply for reasons of personal privacy.
We encourage young people at our school to think about their online reputation and digital footprint: online photos and videos do not simply disappear when we delete them from our accounts. Help us be good adult role models by not oversharing (or providing embarrassment in later life).
Overall, we want you to enjoy school events and activities with your child, so why not just sit back, enjoy the memories and allow others to do so too? Remember, your child wants to see you looking at them, not at your phone.
Social networking and on-line behaviour
Our social media activity is on Facebook, Instagram and Twitter. We use this to improve our day-to-day contact with the families who use the schools, to communicate news about the day-to-day life of the Schools which might not find a place on the school newsletters.
Online behaviour
These schools ask our whole community to promote the 3 commons approach to online behaviour:
Common courtesy
Common decency
Common sense
How do we show common courtesy online?
We ask someone's permission before uploading photographs, videos or any other information about them online.
We do not write or upload 'off-hand', hurtful, rude or derogatory comments and materials. To do so is disrespectful and may upset, distress, bully or harass.
How do we show common decency online?
We do not post comments that can be considered as being intimidating, racist, sexist, homophobic or defamatory. This is cyber-bullying and may be harassment or libel.
When such comments exist online, we do not forward such emails, tweets, videos, etc. By creating or forwarding such materials we are all liable under the law.
How do we show common sense online?
We think before we click.
We think before we upload comments, photographs and videos.
We think before we download or forward any materials.
We think carefully about what information we share with others online, and we check where it is saved and check our privacy settings.
We make sure we understand changes in use of any web sites we use.
We block harassing communications and report any abuse.
Any actions online that impact on the school and can potentially lower the schools' (or someone in the schools') reputation in some way or are deemed as being inappropriate will be responded to.
In the event that any member of staff, student or parent/carer is found to be posting libellous or inflammatory comments on Facebook or other social network sites, they will be reported to the appropriate 'report abuse' section of the network site.
(All social network sites have clear rules about the content which can be posted on the site and they provide robust mechanisms to report contact or activity which breaches this.)
In serious cases we will also consider legal options to deal with any such misuse.
The whole school community is reminded of the CEOP report abuse process:
e-safety at home
Advice on bringing up e-safe children:
How to report worrying online behaviour:
https://www.ceop.police.uk/safety-centre/
Get into the habit of checking out the games, films and programmes your child wants to play/watch: